Where to stay
There are so many hotels in Berlin, it's hard to decide which one to pick. Below you will find a selection of hotels that clients of mine have highly recommended. Some are in the Western part, near the Kurfürstendamm, where you'll find real city life with restaurants, shopping and cafés, others in the Eastern part where the "new" Berlin is shaping up. Prices vary between Euro 80 to 300 for a double room.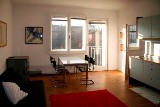 Holiday Flat
Holiday flat
Or how about a holiday flat? A friend of mine rents a very nice (newly renovated and quite stylish) studio apartment in a great, lively neighborhood in Kreuzberg.
Hecker Hotel
Hecker Hotel
Another option near Ku-Damm (West-Berlin) is the Hecker-Hotel. This is a privately run 4-star hotel with excellent service and personalised atmosphere. It is situated very conveniently between Ku-Damm and Savigny Square so that you have dozens of great dining opportunities within a 2-block radius. The 69 rooms are very modern and some have special themes like the popular Bauhaus-Suite.
Arcotel Velvet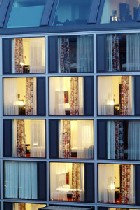 Arcotel Velvet
Would you rather stay in the former East? The Arcotel Velvet, one of Berlin's most popular hotels, is situated right in "Mitte", in the middle of Berlin's most popular nightlife district. Every detail in the hotel and your room is most tastefully designed aspiring to offer an adventure to your senses: And of course, you will find the most modern equipment (DVD-player, flat screen TV etc.) in your room or suite. During the day, consider visiting the New Synagogue, one of the many galleries nearby, or walk to Museum Island which is only minutes away.
Other hotels
For more information click on:
Westin Grand, Berlin
Tegel Airport Hotels
Berlin Mitte Hotels
If you are looking for five-star hotels, consider the Ritz, the Hotel de Rome, or the Westin. I would be happy to make reservations for you. If you want to stay near the Airport, consider the Tegel Airport Hotels.