Berlin Cruise Excursions
Cruise Ship Excursions from Warnemünde/Rostock to Berlin
I offer special tours for cruise ship passengers who dock in Warnemünde or Rostock. A Mercedes mini-van (seats up to 6 passengers) or coach (more than 6 passengers) will pick you up from the ship and transport you to Berlin. I or a colleague will join the bus and take you on a 6-hour tour of Berlin. You will see all the major sights of Berlin. We will also make special stops depending on your interests (Jewish Museum, Pergamon Museum, Reichstag, the Berlin Wall…). You will then be transported back to your ship in time. These tours are completely individualized. You can also do a 2 hour tour and have 4 hours free time on your own. Or we can include a 2-hour bicyle tour of Berlin.
I have had many clients off the following ships: Celebrity Eclipse, Celebrity Constellation, Norwegian Sun, Regatta, Azamara, Seven Seas Voyager, Sea Cloud, Discovery, Saga Ruby, Eurodam, Prinsendam, Silver Whisper, Disney Magic, Star Princess, Seven Seas Voyager.
Early-Bird Special
If you book before April 1, you will receive the tour described above (a 12-hour tour including the 6-hour tour in Berlin) for Euro 940 (one price for up to 6 passengers) instead of 990!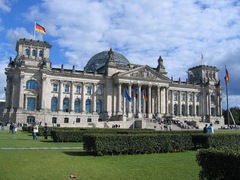 Cruise Ship Excursions from Warnemünde/Rostock along the Coast
If you would prefer to remain along the Coast you can also contact me and I will design a nice tour for you. Below you will find a list of possible places to see - pick a few or let me know what you like and how much time you'd like to spend and I will suggest a tour for you.
Some possible sights: Bad Doberan Münster (medieval abbey), ride in the vintage steam train Molli to Heiligendamm (sight ofG8 meeting in 2007) or Kühlungsborn (lively and charming resort town, Wismar (UNESCO World Heritage with medieval architecture), Rostock itself (St. Petri church with viewing platform, university square and old town), exhibition of Stasi prison cells, chocolate manufactury (including tasting), amber museum, hunting lodge Gelbensande, Fischland-Darß-Zingst (traditional fisherman's villages with thatched homes), Stralsund (another UNESCO World Heritage, a lovely city with a splendid town hall and medieval houses), Museum of Oceanography, Isle of Rügen (White Cliffs, resort of Binz, or Prora: the never completed Nazi resort), farmer's market and family entertainment at Karl's Erdbeerhof, or mansions and palaces in Interior Mecklenburg (Güstrow,Renaissance Castle, Schwerin Palace and Old town), lake district.
Cruise Ship Excursions from Hamburg
If you arrive in Hamburg, I can arrange for you to be picked up and be brought into Hamburg for your private tour in Berlin. You can also take the train (only 1.5 hours). Either way, we would meet you in Berlin and tour the city according to your schedule and interests. I can also have someone meet you in Hamburg and take you to the train station.