Private Tours in Berlin
Do you wish you knew somebody in Berlin who could help you decide where to stay and what to see? Whether you travel alone, with family, or in a group, I will help you plan your trip and show you around once you get here: On foot, by car, or by bus. Get the support you would get from a friend or relative! I'll also suggest restaurants and help purchase concert tickets. If I am not available, one of my guides will be.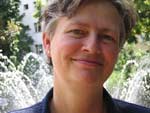 My name is Jo Eckardt.
I lived in New York for 19 years teaching German at NYU and working for the UN. In 2001 I returned to Berlin. Even though I still miss New York, I don't regret the move. Berlin is a great place and I'd love to show it to you!
---
Now you can book your tour directly. Just click on the green Book-now-button! However, if you're interested in a completely customized tour, or if you have questions, please feel free to send me an e-mail. I'd be happy to answer your questions, and book a tour that fits your needs perfectly. Also if your group is more than 6 people, please contact me directly!
Check out my Facebook
Claim your free audio tour!
What's new
More Languages: In addition to Spanish, French and Italian tours, we now also offer tours in Hebrew, Portuguese, Thai, Chinese, Russian, Greek, Dutch and Polish!
Concerts: When in Berlin, check out the free Philharmonie lunch concerts every Tuesday!
Boat tours through Berlin: You may not know this, but Berlin has more water ways, canals, rivers, and lakes, then almost any other city in the world. A tour in a small private motor boat will be the highlight of your stay!