Passeios privados em Berlimeno
Oferecemos passeios privados - individuais, para famílias ou grupos. Tudo é possível: uma caminhada de 3 horas, ou uma excursão durante todo o dia, de ônibus ou de carro, com motorista e guia (em língua portuguesa). Nós podemos mostrar-lhe a cidade de Berlim, os museus, Potsdam, áreas rurais adjacentes, ou o antigo campo de concentração de Sachsenhausen. Diga-nos o que você precisa e nós projetamos um passeio para você Foram buscá-lo também sobre o navio de cruzeiro em Rostock.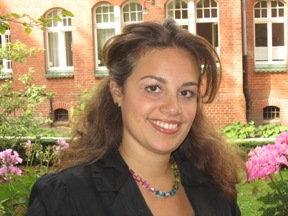 Luciana
Graças a nosso excitante e inesqueível tour, você descobrirá as mais famosas ruas e praças de Berlim. Durante toda a sua visita, você terá o prazer de uma atenção personalizada. Berlin é realmente uma cidade enorme, cheia de pontos de interesse e de avenidas para todos os gostos. Mas Berlin é também un ponto cultural com mais de 175 museus, 150 teatros e três salões de ópera!
Salut!
Eu me chamo Luciana e sou de nacionalidade portuguesa. Teria muito gosto em dar-vos as boas-vindas a Berlim e mostrar-vos cada esquina desta maravilhosa cidade.
Testimony:
I wish to express our gratitude, for the indication of Luciana, as our guide to visit Berlin. She was very kind, helped as a lot to know well your city. We were very happy to has her as our guide, and will recommend your service for all our friends.