A day (or two) in Dresden
Click the book-now button to book your Dresden tour directly. If you have questions, send us an email!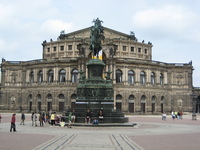 Dresden is only about 200 kilometers from Berlin - a two hour long drive by car. As much as I love Berlin I'll readily admit that Dresden is more beautiful than almost any other town in Germany. You should stay at least 2 days in Dresden to see the most important sights: the Old Town, Frauenkirche (Church of Our Lady), Zwinger (Museum of Old Masters), the Bruehlsche Terraces, Grünes Gewölbe (Green Vault) : it will take your breath away. If there is time, take a river steam boat cruise up on the beautiful Elbe to Pillnitz Castle, visit the unique and amazing "Hygiene Museum", or enjoy the view from the roof beergarden of the Yenidze, a former tabacco warehouse.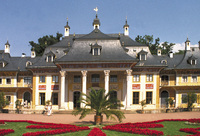 If you consider driving down to Dresden for a day, I will arrange this for you. If you plan on spending a few nights in Dresden, I have great guides for you in Dresden who will pick you up from your hotel: Michael, or his wife Nicole. They have degrees in art history and can show you not only the city but can also take you into the museums. Their English is great and they will go out of their way to make your visit memorable and special!
Enjoy a day-trip to Dresden with my driver/guide Thomas. He used to live in Dresden for a long time and can show you everything. His English is fluent and his car is brand new and very comfortable (for up to 7 people). The day trip would consist of pick-up from your hotel, drive to Dresden (approx. 2 hours), about 6 hours in Dresden (with sightseeing, visit of a museum of your choice, stop for lunch), and return to Berlin. Price: Euro 900 (no matter if it's one person, two, or eight). Entry fees and lunch are not included.
---
Other destinations near Berlin
Also ask me about other places near Berlin: Consider the Spreewald. You will love it, especially if you like to be active and would enjoy kajaking or paddling through miles and miles of hidden canals. Or visit one of the beautiful castles in Mecklenburg.